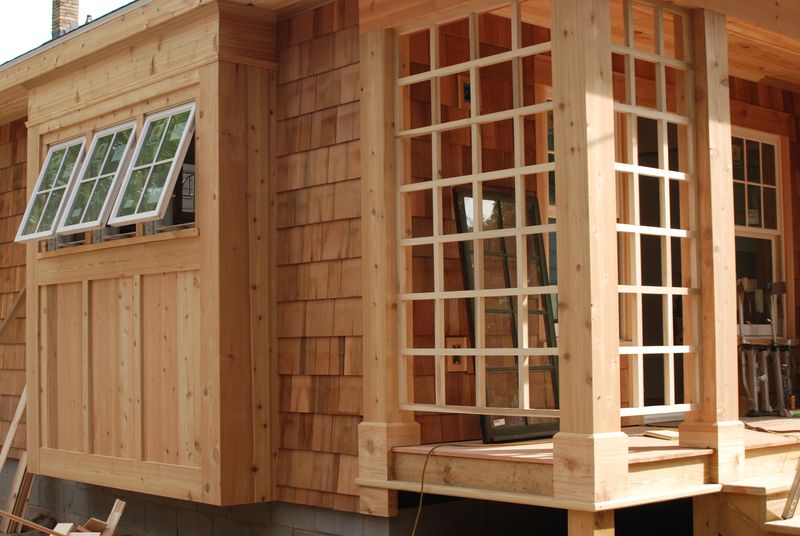 we closed on our house three years ago in march. we spent several months stripping wallpaper, pulling up carpet and flooring, cleaning, painting and stripping out some of the kitchen. then last summer we finally decided that we were ready to begin the structural work that needed to be done. we hired our amazingly talented friend tom johnson to design our new kitchen and he hired his fabulous builders to do the construction.
we finished construction last october. i began some of the painting/priming on the new exterior last fall and I have begun again now that the weather is more consistent here.

our entire house and garage have been waiting to be painted since before we moved in. last week i began power washing the garage. my husband and i have had great concerns about lead paint. when we were living in our last house which was 100 years old we had a lead expert come and do an evaluation for us. he was a wealth of knowledge and he was very generous with his time and expertise. we are still a little over the top when it comes to the lead paint removal and containment.
when i first began the power wash we were concerned with all the paint coming off the garage. my husband suggested that I put down a canvas to catch the paint chips. i thought that might be a disaster given that we are still working on growing a lawn since we did the re-grading in our back yard. i thought maybe if i bought some screen material that might work to catch the paint and let the water through. it really did a great job. i bought a 25b x 72b roll of synthetic screen and laid it under where i was to spray. it caught most of the paint. i then i folded it over a few times and laid it on the driveway with a few rocks to hold the ends down so that it would dry. i dumped the paint flakes in a bag after a few hours and wow! this was very effective. please be sure to wear a hepa mask when dumping the paint and/or try to cover it as you dump the best you can, adults can get lead poisoning too. also wash clothing separate from family laundry.
~sunshine and happiness